Home * Contents * Newsletter * World Photos * Search Engine




British Open 2001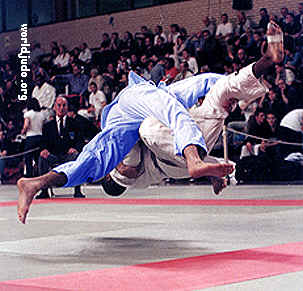 Magic judo at the British Open 2001.
Who is this? He is a World and Olympic Champion and has been interviewed here at Worldjudo.org
---

Click this photo for the answer.
---

For Even More Pictures See
www.Topjudo.com
---
Hot News
Due to demand I have now set up an Internet Shop that will take credit cards. I hope you like it. If you have any suggestions on what you would like to see at the shop please email me.
Good luck in Judo, Now and always.
Dave@worldjudo.org
We will keep you up to date on latest features and updates found at our site and any other World Judo News, including special offers on posters, photos etc.
To 'subscribe' for your Free Judo Newsletter Click Here