Paris Tournoi De Paris is NOW Named
Paris Grand Slam 2009
INTERNATIONAL JUDO STARS COMPETE IN THE FIRST GRAND SLAM OF THE SEASON

---
I was present at one of the most exciting judo tournaments on the planet.
The Paris Grand Slam is one of the biggest on the judo calendar, with more than 20 medallists from the Beijing 2008 Olympics in action.
It was brilliant sitting just inches away from some of the worlds greatest judo photographers including Dave Finch, judo photographer extraordinaire, but that's another story for another day. It was Dave's 65 birthday and he has had no less than over 100 books use his photos. So I was on a high getting inspiration from not only fantastic world class judoka but also from an all time great in judo photography.
I am self funded and have no preference to any country. My interest is only to show you, the judo fans of this world, great action pictures. I have been a judo photographer for over 15 years and a judo participant for over 35 years so you will see many top judo spectacular pictures here.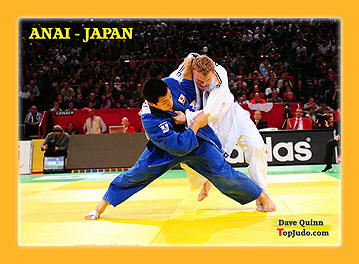 Poster Ref: GS09-AnaiParis

The first Grand Slam of the season put together 28 Olympic medallists from Beijing 2008 on the tatami in Paris (Palais Omnisports Bercy, 7-8 February 2009). Fourteen male and 14 female judokas (25% of the total of medals awarded) who were on the podium in China last August 2008 are back to fight for their next Olympic Qualification London 2012. Due to the new world ranking system announced by the International Judo Federation, since January 1st all Grand Slam, Grand Prix, World Cup, Master and World Senior Championships share points for the international list, which qualifies for London 2012. There is no time to lose!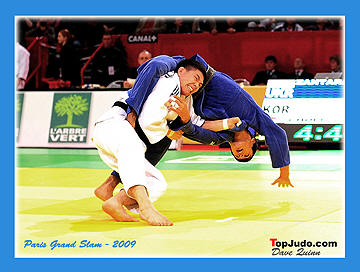 Poster Ref: GS09-Pstr2716


Olympic champions Masato Uchishiba (JPN, -66kg), Elnur Mamadli (AZE, -73kg), Irakli Tsirekidze (GEO, -90kg), Alina Dumitru (ROM, -48kg), Xiuli Yang (CHN, -78kg) and Wen Tong (CHN, +78kg) were among the top stars to be seen in action. Athletes from 59 countries competed, with 196 female and 294 male judokas.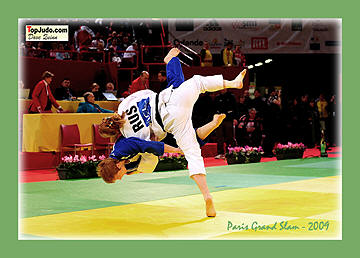 Poster Ref: GS09-Pstr2908-2



The new IJF tournament system features four Grand Slams (Paris, Moscow, Rio de Janeiro and Tokyo), five Grand Prix (Hamburg, Tunis, United States of America, Beijing and Abu Dhabi) and 17 World Cups, plus the Masters to be held in Seoul this year. Grand Slam award 300 points to the winner, Grand Prix award 200 and World Cup award 100 points. Masters have a value of 400 points for the champion, while World Championships have 500 points, Olympic Games 600 points and continental championships 180 points. (For details access www.ijf.org).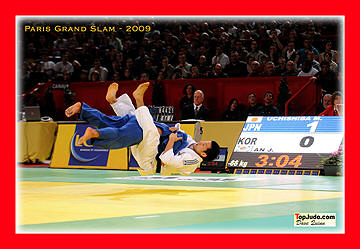 Poster Ref: GS09-Pstr8445-2



Prize money will be given from this season on: Masters will divide US$ 200.000 among the medallists in each of the 14 Olympic categories; Grand Slam features a prize money of US$ 150.000 and Grand Prix will divide US$ 100.000.
---
[ Home ] [ Up ] [ Judo Grand Slam Paris 2 ] [ Judo Grand Slam Paris 3 ] [ Judo Grand Slam Paris 4 ] [ Judo Grand Slam Paris 5 ]
Hold on to your judogi. More picture and results are being added very soon.