Home * Contents * Newsletter * World Photos * Search Engine




---
These Judo posters are size 297mm x 420mm A3. Larger A2 coming soon. Approximate sizes. The 4 Posters above can be purchased as a set.
Reference: PedroUSAplusSet
To order see NETSHOP

---
This Collection has taken me a couple of years to find the time and complete as I wanted it. I tried many times before but was unhappy with the results. At last I am thrilled to say I am well pleased with the results. I hope you like them.
The first picture is of World Judo Champion 1999/2000 Jimmy Pedro USA. I took the photo at one of my first major tournaments as a judo photographer. At the time I had not heard of Jimmy. I watched the first seconds and instantly new this guy was top. I think I have pictures from every fight. Most can be seen at this site. I have left a small space so mega fans could (if they can catch him) have him sign it.
Picture 2 is of the phenomenal Ryoko Tamura Japan. At the World Judo Championships Birmingham, Great Britain. She has won more World titles than any female judoka alive. Wow.
Poster 3 and 4 I took in Tunisia at the World Judo Junior Championships. The pictures show a mighty effort by Tori (Blue). However to my amazement (and the crowds) Uki did not panic. Instead he maintained the perfect balance controlling the attack and then taking complete control. Finishing, not as all expected, but instead with a brilliant Osoto-Gari to win the fight.

I have added titles that I hope are inspiring to all martial arts enthusiasts world wide.
"May Your Ippons Be Sweet And Neat"
Dave Quinn Worldjudo.org
---
Order Code: PedroUSAplusSet Click Here
All printed on coated paper. All suitable for framing or suitable to display as is. Printed on Size A3.
---
£20 UK Pounds for the four
Converted that's approximately $30 U.S. or 31 Euro's. Please use a conversion chart for the exact figure.

SHIPPED WORLD WIDE
Order Code: PedroUSAplusSet
Price includes World Wide Postage.
---
@ MANY MORE POSTERS @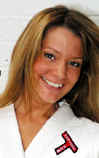 Visit Judo Princess Sukui
Also See JUDO IMAGES And JUDO ART
---
The 4 Posters above can be purchased as a set. Reference: PedroUSAplusSet Also see NETSHOP for a judo bargain.