Home * Contents * Newsletter * World Photos * Search Engine




Mat-side at the Hyundai World Judo Championships held at Birmingham, Great Britain 1999. As expected it attracted the greatest competitors of our time. As the announcer said "The Gladiators of today." I'm a freelance photographer so you may like to see my results.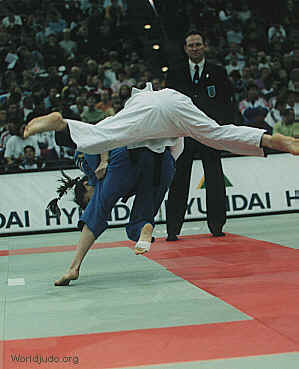 [ Up ] [ World Judo Championships 1999 All Action JUDO pictures ] [ JUDO Commonwealth Games ] [ INTERNATIONALE Open Van De Belgische Judo Bond. Open International de la Ligue Belge de Judo. ] [ JUDO Tournoi International de Paris. Il de France 2002 Judo Photos ] [ British Open Judo Championships Fotos 2000 ] [ British JUDO Open 2000. International Competitors in Action Pictures. ] [ Judo World Championships, Judo Weltmeisterschaften, 2001 Munich Germany ] [ World Judo Championships 2000 Juniors Tunisia ] [ World Judo Rotterdam ]
---
IT'S ALL ACTION AND IT'S ALL HERE.
WE ARE ADDING MORE PHOTOS MOST DAYS.
THANK YOU ALL, BIG AND SMALL.
All Photo's are by
Dave Quinn
Freelance Photographer.
---
Ken Prescott Canada
1st kyu
Comments:
I love this site!!!! Absolutely amazing!!!!