Home * Contents * Newsletter * World Photos * Search Engine
World Judo Championships
2001
---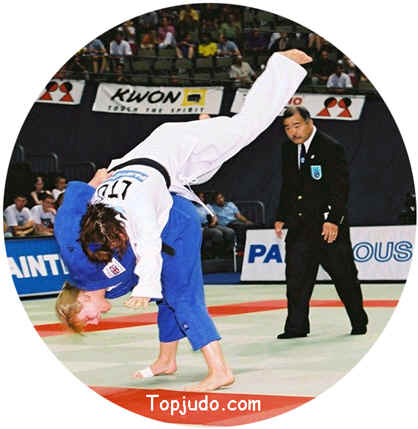 Fantastic use of the hips to add maximum thrust to this throw.
---
[ Up ] [ Il mio scopo non è arricchirmi con il judo, ma arricchire il judo. ] [ Gotcha ] [ Die Welt-Judo-Meisterschaften bei München, Deutschland, haben zusammen die größten Judo-Athlete auf diesem Planeten gebrac... ] [ Head to Head photos from the World Judo Championships. ] [ Let It Flow ] [ Smooth Move ] [ To Win at Judo ] [ Uchi-Makikomi Judo technique Inner wind-down throw. ] [ Judo Technique Uchimata. Inner Thigh Throw. ] [ wunderbare ] [ YeeHa ] [ Wow ] [ Top Form ] [ Morote-Seoi-Nage ] [ Judo Technique Te-Guruma. Hand Wheel. ] [ Great Stuff ] [ Flying Judo ]
Many More Soon.
Also see Judo Images Interviews Judo Art Posters
---
Es ist nicht meine Absicht mit Judo reich zu werden, sondern Judo zu bereichern. Meine Web-Seite ist komplett uneigennützig und wird auf freiwilliger Basis gepflegt. I werde weiterhin für unseren Sport werben so gut ich kann. Bitte, bitte, bitte setzen Sie auf Ihrer Seite einen Link und fördern Sie damit den freien Geist des Judo. Vielen Dank.